Exercise Cope India: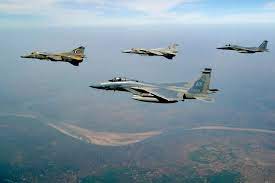 India-U.S. air exercise 'Cope India' to begin next week. Exercise with the US Air Force (USAF) will begin at the Kalaikunda airbase in West Bengal.
It is a bilateral joint exercise between Indian Air Force (IAF) and the United States Air Force (USAF).
Cope India began in 2004 as a fighter training exercise.
The exercise has evolved to incorporate subject matter expert exchanges, air mobility training, airdrop training and large-force exercises, in addition to fighter-training exercises.
The exercise will further enhance operational capability and interoperability between the two air forces..
The last edition of the exercise was held in 2019.