ORON Aircraft : Israel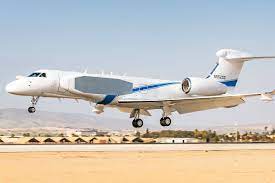 Israel's Defense Ministry and the Israel Aerospace Industries (IAI) recently announced they completed two years of outfitting the ORON aircraft with advanced intelligence-gathering technology.
ORON Aircraft is an Intelligence, Surveillance & Reconnaissance (ISR) mission aircraft.
It was developed by the Israeli Defence Ministry's Directorate of Defense Research and Development (DDR&D), the Israel Air Force and the Israel Defense Force (IDF) Intelligence unit's naval arm and Israel Aerospace Industries (IAI).
It is based on the Gulfstream G550 executive jet platform, which has been outfitted with a bevy of sensors and data collection equipment that allows it to rapidly locate targets in all weather conditions.
The aircraft combines several capabilities, including aerial imaging, control and radar, and maritime intelligence gathering for the Navy.
It will be equipped with layers of automatic data systems based on advanced algorithms and AI.
It will enable the IDF to create a real-time comprehensive intelligence picture, including deployment of ground forces, near and far, in routine times and during warfare.