Namda Art Products : Export To United Kingdom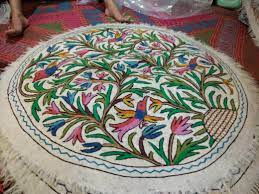 The Union Minister of State for Skill Development and Entrepreneurship flagged off the first batch of Namda Art products for export to the United Kingdom (UK).
The Namda craft of Kashmir is being successfully revived under a Skill India's Pilot Project as part of the Pradhan Mantri Kaushal Vikas Yojana (PMKVY), with nearly 2,200 candidates from across six districts of the state, receiving training in the dying art form.
Namda Art is said to have begun in the 16th century when Mughal Emperor Akbar wanted to get a covering for his horses to protect them from the cold.
It was introduced by a Sufi saint named Shah-e-Hamdan to Kashmiris.
Namda is a type of traditional Kashmiri felted carpet that is created using sheep wool and has colourful hand embroidery.
The distinct feature of this Kashmiri craft is that wool is felted and not woven.
It is usually a sandwich of many layers of wool flattened over each other.
After a layer is spread, it is sprinkled homogeneously with water and pressed with a tool known as 'pinjra' (woven willow wicker).
Unique themes and floral patterns provide the themes for these masterpieces and flowers and leaves, buds and fruits are the essence of the designs.
It is practised as a craft in several cultures, especially in the countries throughout Asia, viz. Iran, Afghanistan and India.