Tapas Unmanned Aerial Vehicle: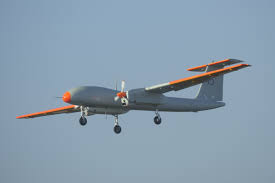 The Indian Navy and the Defence Research and Development Organisation (DRDO) successfully carried out the transfer of command-and-control capabilities of the TAPAS Unmanned Aerial Vehicle (UAV).
Tapas Unmanned Aerial Vehicle (UAV) is known asTapas-BH 201(Tactical Airborne Platform for Aerial Surveillance-Beyond Horizon 201) , formerly referred to as Rustom-II.
It is a Medium Altitude Long Endurance (MALE) unmanned aerial vehicle.
It is being developed by Aeronautical Development Establishment (ADE), Defence Research & Development Organisation (DRDO).
It is capable of operating at altitudes of up to 28,000 feet with an endurance of over 18 hours.
The drone has a 20.6-meter wingspan and a maximum speed of 225 kmph.
It can carry a variety of payloads up to a maximum of 350 kgs.
It can be controlled remotely and also has the ability to execute pre-programmed flight plans autonomously with precision and flexibility.
Designed to fulfil the Intelligence, Surveillance, Target Acquisition, Tracking & Reconnaissance (ISTAR) requirements of the tri-services, the Tapas UAV can effectively operate in both day and night conditions.
It is pre-designed to carry certain weapons and can be converted into an armed platform as and when required by the user.