Sahitya Akademi Award: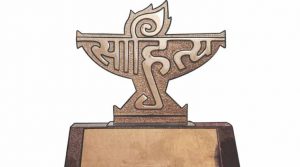 The Sahitya Akademi announced the Sahitya Akademi Award 2021 in 20 languages. The Akademi also announced Yuva Puraskar and Bal Sahitya Puraskar for 2021.
List Of Sahitya Akademi Awards 2021
Anuradha Sarma Pujari (Assamese)
Bratya Basu (Bengali)
Mwdai Gahai (Bodo)
Raj Rahi (Dogri)
Namita Gokhale (English)
Daya Prakash Sinha (Hindi)
DS Nagabhushana (Kannada)
Wali Mohd Aseer Kashtawari (Kashmiri)
Sanjiv Verenkar (Konkani)
George Onakkoor (Malayalam)
Kiran Gurav (Marathi)
Chhabilal Upadhyaya (Nepali)
Hrushikesh Mallick (Odia)
Khalid Hussain (Punjabi)
Meethesh Nirmohi (Rajasthani)
Vindeshwariprasad Mishr "Vinay" (Sanskrit)
Niranjan Hansda (Santali)
Arjun Chawla (Sindhi)
Ambai (Tamil)
Gorati Venkanna (Telugu)
Sahitya Akademi award established in 1954, is a literary honour that is conferred annually by Sahitya Akademi, India's National Academy of letters.
Akademi gives 24 awards annually to literary works in the languages it has recognized and an equal number of awards to literary translations from and into the languages of India.
Besides the 22 languages enumerated in the Constitution of India, the Sahitya Akademi has recognised English and Rajasthani as languages in which its programme may be implemented.
The Sahitya Akademi award is the second-highest literary honour by the Government of India, after the Jnanpith award.