Global Ayush Investment & Innovation Summit 2022: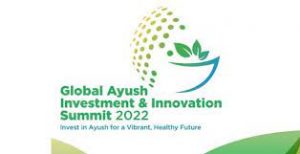 Prime Minister Shri Narendra Modi today inaugurated the Global Ayush Investment & Innovation Summit 2022 at Gandhinagar, Gujarat.
The three day Ayush global summit will witness a dialogue with entrepreneurs, industry, startups and other stakeholders to encourage them to increase investment for innovation in Ayush as the sector continues to showcase colossal room for growth.
The Global Ayush Investment & Innovation Summit will be in progress till April 22, 2022 in Gandhinagar, Gujarat and commenced a day after the Prime Minister inaugurated the WHO-Global Centre for Traditional Medicine in Jamnagar.
In 2014, where the Ayush sector was less than $3 billion, today it has increased to more than $18 billion.
Many new initiatives in Ayush sector were announced by the Prime Minister, first being a special Ayush mark for Ayush products.
This will give people all over the world the confidence of quality Ayush products.
Government will develop a network of Ayush parks to encourage the promotion, research and manufacturing of Ayush products across the country.
A new category named 'Ayush Aahar' was announced which will greatly facilitate the producers of herbal nutritional supplements.
India will soon introduce a special Ayush visa category for foreign nationals who want to come to India to take advantage of Ayush therapy was announced.
PM Modi announced launch of Ayush Export Promotion Council and four Ayush ICT initiatives which includes Ayush Information Hub, AyuSoft, Ayush Next and Ayush GIS.
Prime Minister also released a comic book named 'Professor Ayushman', which describes how Ayush systems and products helped in fighting not only COVID-19 but other diseases also.
On this occasion, the Prime Minister distributed awards to the winners of 'Ayush Start-up Challenge' organised by All India Institute of Ayurveda (AIIA) in association with Start-up India.