First G20 Culture Group (CWG) Meeting: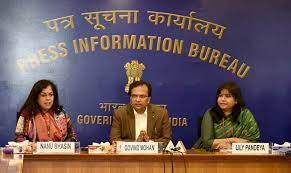 Ministry of Culture is organising the First G20 Culture Group (CWG) meeting in Khajuraho, Madhya Pradesh from 22nd to 25th February 2023.
The working group will have four meetings and they will be held in Khajuraho, Bhubaneshwar, and Hampi.
The theme of the Khajuraho meet is "Protection and Restitution of Cultural Property".
Khajuraho is an ancient city known for its majestic temples and elaborate sculptures.
The Khajuraho Group of Monuments is a UNESCO World Heritage Site which was constructed by the Chandela Dynasty between 950-1050 AD.
These monuments are built in Nagara-style architecture and ornamented with intricate and detailed sculptures.
The monuments include Hindu and Jain
According to historical records, there were 85 temples in the temple site in Khajuraho, covering 20 square kilometres, in the 12th Century AD.