G20 Labour And Employment Ministers Meeting: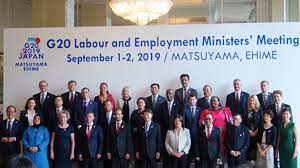 The Union Minister for Labour and Employment has said that India is making collective efforts to reduce gender gaps in labour force participation.
He was delivering the Ministerial Address on Declaration and Employment Working Group Priorities at G20 Labour and Employment Ministers' Meeting.
Issues Discussed:
The Employment Working Group deliberated upon key issues, including women employment, social security and remote working.
In 2014, G20 Leaders pledged in Brisbane to reduce the gap in labour force participation rates between men and women by 25% by 2025, with the aim of bringing 100 million women into the labour market, increasing global and inclusive growth, and reducing poverty and inequality.