First G20 Health Working Group Meeting: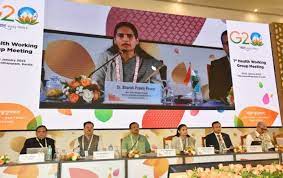 The first G20 Health Working Group meeting under India's presidency was held in Thiruvananthapuram in Kerala.
Various discussions are being held focussing on international cooperation for Universal health care, in the three-day conference.
Discussions on strengthening medical value travel enabling easy travel to countries with low cost treatment facilities and also on holistic health care through the integration of traditional methods of treatment like Ayurveda were held.
Three priorities for the G20 Health Track:

Priority I: Health Emergencies Prevention, Preparedness and Response (with focus on One Health & AMR).
Priority II: Strengthening Cooperation in Pharmaceutical Sector with focus on Access and Availability to safe, effective, quality and Affordable Medical Countermeasures (Vaccines, Therapeutics and Diagnostics).
Priority III: Digital Health Innovations and Solutions to Aid Universal Health Coverage and Improve Healthcare Service Delivery.
The G20 Health Working Group (HWG) :
It was established under the German Presidency in 2017 to develop a shared international agenda on issues such as strengthening health-care systems, reducing malnutrition, health-crisis management and scaling up the fight against pandemics.
India assumed presidency of the G20 on 1st December 2022.