First Liquid Nano Urea (LNU) Plant At Kalol, Gujarat: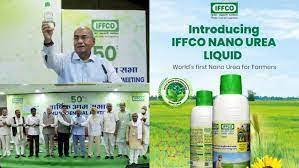 The Prime Minister inaugurated the first Liquid Nano Urea (LNU) plant at Kalol, Gujarat.
It is Indigenous Urea, introduced firstly by the Indian Farmers Fertiliser Cooperative Limited (IFFCO) for farmers across the world.
Liquid Nano Urea:
It is urea in the form of a nanoparticle.
It is a nutrient (liquid) to provide nitrogen to plants as an alternative to the conventional urea.
Urea is a chemical nitrogen fertiliser, white in colour, which artificially provides nitrogen, a major nutrient required by plants.
It is developed to replace conventional urea and it can curtail the requirement of the same by at least 50%.
It contains 40,000 mg/L of nitrogen in a 500 ml bottle which is equivalent to the impact of nitrogen nutrient provided by one bag of conventional urea.
It has been indigenously developed at Nano Biotechnology Research Centre, Kalol, Gujrat in line with Atmanirbhar Bharat and Atmanirbhar Krishi.
India is dependent on imports to meet its urea requirements.
It is aimed at reducing the unbalanced and indiscriminate use of conventional urea, increase crop productivity, and reduce soil, water, and air pollution.