Urea plant at Namrup: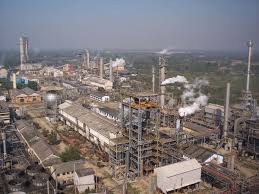 Union Minister for Chemicals & Fertilizers chaired a meeting on the upcoming 12.7 lakh MMTPA capacity urea plant at Namrup. The Namrup-IV unit is important for ensuring local development and creating job opportunities.
Namrup is a small town situated close to the foothills of the great Patkai Mountain Range (Purvanchal Range connecting to Myanmar) in the extreme south-eastern part of Assam.
The river Dihing or Disang flows through it.
Administratively Namrup is located within the Dibrugarh district and is today an important industrial town of Assam.
Namrup is the first place in India where a natural gas-based fertilizer factory was established – It made use of natural gas, water (in the form of steam), and Nitrogen (from the air) to produce urea.