First Meeting Of The Inter-Ministerial Coordination Group: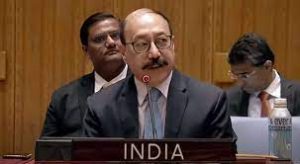 The first meeting of the Inter-Ministerial Coordination Group (IMCG) at Secretary level was convened by India's Foreign Secretary.
The IMCG has been set up as a high-level mechanism towards mainstreaming of India's 'Neighbourhood First' policy vision that sought to develop better relations with the country's neighbours.
IMCG is supported by inter-ministerial Joint Task Forces (JTFs) convened by joint secretaries in the external affairs ministry.
Highlights of the Meeting:
The IMCG provided a comprehensive direction with a whole-of-government approach to promote better connectivity, stronger interlinkages and greater people-to-people connect with the neighbours.
The focus of the meeting was construction of border infrastructure that would facilitate greater trade with neighbours like Nepal; special needs of countries such as Bhutan and Maldives in terms of supply of essential commodities; opening rail connectivity with Bangladesh; Humanitarian assistance to Afghanistan and Myanmar; and Fisheries issue with Sri Lanka.
IMCG will further improve institutional coordination across government and provide comprehensive direction to this whole-of-government approach to India's relations with its neighbouring countries.