Kasturirangan Committee Report: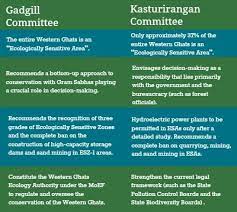 Karnataka Chief Minister Basavaraj Bommai informed the Centre that the state is opposed to the Kasturirangan Committee report on Western Ghats.
He said that declaring Western Ghats as ecologically sensitive zone would adversely affect the livelihood of people in the region.
However, the experts called the state's opposition disastrous for the ecologically fragile Western Ghats.
Gadgil Committee:
It defined the boundaries of the Western Ghats for the purposes of ecological management.
It proposed that this entire area be designated as ecologically sensitive area (ESA).
Within this area, smaller regions were to be identified as ecologically sensitive zones (ESZ) I, II or III based on their existing condition and nature of threat.
It proposed to divide the area into about 2,200 grids, of which 75 per cent would fall under ESZ I or II or under already existing protected areas such as wildlife sanctuaries or natural parks.
The committee proposed a Western Ghats Ecology Authority to regulate these activities in the area.
Recommendations of Kasturirangan Committee:
A ban on mining, quarrying and sand mining.
No new thermal power projects, but hydro power projects allowed with restrictions.
A ban on new polluting industries.
Building and construction projects up to 20,000 sq m was to be allowed but townships were to be banned.
Forest diversion could be allowed with extra safeguards.