Inter-State Council Meeting: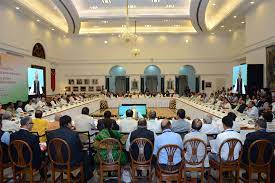 In June 2022, Tamil Nadu Chief Minister M K Stalin wrote to Prime Minister Narendra Modi, asking that at least three meetings of the Inter-State Council should be held every year to "strengthen the spirit of cooperative federalism".
Inter-State Council is a mechanism that was constituted "to support Centre-State and Inter-State coordination and cooperation in India".
The Council is basically meant to serve as a forum for discussions among various governments.
The Inter-State Council was established under Article 263 of the Constitution, which states that the President may constitute such a body if a need is felt for it.
In 1988, the Sarkaria Commission suggested the Council should exist as a permanent body, and in 1990 it came into existence through a Presidential Order.
The main functions of the Council are inquiring into and advising on disputes between states, investigating and discussing subjects in which two states or states and the Union have a common interest, and making recommendations for the better coordination of policy and action.
The Prime Minister is the chairman of the Council, whose members include the Chief Ministers of all states and UTs with legislative assemblies, and Administrators of other UTs.
Six Ministers of Cabinet rank in the Centre's Council of Ministers, nominated by the Prime Minister, are also its members.
Since its constitution in 1990, the body has met only 11 times, although its procedure states it should meet at least three times every year.
That there has been no meeting since July 2016.
The Council was reconstituted in May 2022.
The body will now have 10 Union Ministers as permanent invitees, and the standing committee of the Council has been reconstituted with Home Minister Amit Shah as Chairman.