UNODC World Drug Report 2023: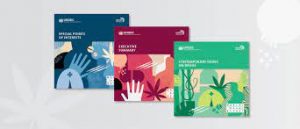 The UNODC World Drug Report 2023 (a yearly report) highlights the expanding illicit drug markets and the challenges they pose to health services and law enforcement.
Key findings:
Over 296 million people worldwide used drugs in 2021, a 23% increase over the past decade.
The increasing dominance of synthetic drugs, such as methamphetamine, and fentanyl which have transformed illicit drug markets due to their low cost and ease of production.
Drug use disorder cases have surged by 45% in the last ten years
Accelerated environmental devastation and crime caused by drug trafficking in the Amazon Basin.
Only one in five individuals with drug use disorders received treatment in 2021, with significant regional disparities in access to treatment
Illicit drug economies exacerbate conflicts, human rights abuses, and environmental devastation.
Illicit drug trade finances non-state armed and insurgency groups in the Sahel region. Prioritizing public health in regulating med
UNODC:
United Nations Office on Drugs and Crime (est. 1997; HQ: Vienna) focuses on the trafficking and abuse of illicit drugs, crime prevention and criminal justice, international terrorism, and political corruption.
It is a member of the United Nations Development Group.