Four Species Of Azooxanthellate Corals: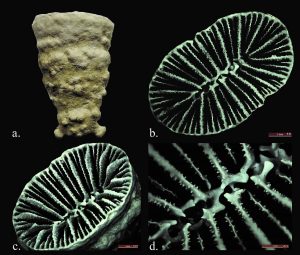 Scientists have recorded Four Species of Azooxanthellate Corals under the Genus Truncatoflabellum (Scleractinian: Flabellidae) for the first time from Indian waters.
Findings:
Truncatoflabellum crassum, T. incrustatum, T. aculeatum, and T. irregulare are the four species of corals found.
These groups of coral were previously found from Japan to the Philippines and Australian waters while only T. crassum was reported within the range of Indo-West Pacific distribution including the Gulf of Aden and the Persian Gulf.
They are found from the Waters of Andaman and Nicobar Islands.
They are Azooxanthellate corals, which are a group of corals that do not contain zooxanthellae and derive nourishment not from the sun but from capturing different forms of plankton.
Zooxanthellae are unicellular, golden-brown algae (dinoflagellates) that live either in the water column as plankton or symbiotically inside the tissue of other organisms.
Zooxanthellate corals, meanwhile, are restricted to shallow waters.
They are hard corals and are not only solitary but have a highly compressed skeletal structure.
There are about 570 species of hard corals found in India and almost 90% of them are found in the waters surrounding Andaman and Nicobar Islands.
The pristine and oldest ecosystem of corals share less than 1% of the earth's surface but they provide a home to nearly 25% of marine life.
They are deep-sea representatives, with the majority of species reporting from between 200 m to 1000 m.
They also occur in shallow coastal waters.