New Species Of Endemic Honeybee: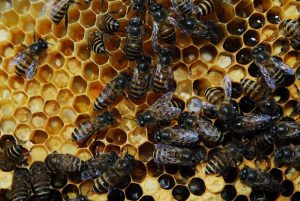 A new species of endemic honeybee has been discovered in the Western Ghats. The finding has been published in the September issue of Entomon, a peer-reviewed journal brought out by the Association for Advancement of Entomology.
The new species has been named Apis karinjodian and given the common name Indian black honeybee.
It is after a gap of more than 200 years that a new species of honeybee has been spotted in the Western Ghats.
The last honeybee described from India was Apis indica in 1798 by Fabricius.
Although Fabricius named the Indian bee Apis indica, it was not considered a valid species till now.
The research team restored the status of Apis indica based on a new measure for species discrimination in honeybees termed 'Radio-Medial Index (RMI)'.
While proving the distinct identity of Apis indica, led to the discovery of Apis karinjodian.
Apis karinjodian has evolved from Apis cerana morphotypes that got acclimatised to the hot and humid environment of the Western Ghats.
The distribution of Apis karinjodian ranges from the central Western Ghats and Nilgiris to the southern Western Ghats, covering the States of Goa, Karnataka, Kerala and Tamil Nadu.