Full Siege Of The Gaza Strip: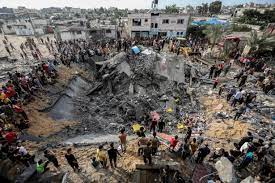 Israel recently ordered a full siege of the Gaza Strip and vowed to obliterate Hamas after its all-out offensive entered the next phase.
Gaza Strip is a self-governing Palestinian territory located on the eastern coast of the Mediterranean Sea.
The territory takes its name from Gaza, its main city.
It forms the smaller of the two Palestinian territories — the other being the West Bank.
It is bordered by Israel to the north and east and Egypt to the south.
It is a 41km (25-mile) long and 10km-wide territory.
It is one of the most densely populated areas in the world. More than 2 million people live in the territory.
The population is predominantly Palestinian, with the majority being Sunni Muslims.
Hamas, a Palestinian Islamist organisation, currently governs the Gaza Strip.
It took control in 2007 after it won elections there the year before. Since then, no elections have been held.