Pangong Tso Marathon : Ladakh Sets Guinness Record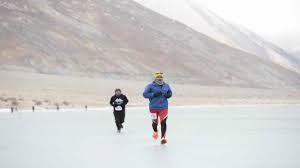 The Ladakh Autonomous Hill Development Council recently launched Pangong Tso Marathon.
The marathon is the first of its kind in India. It was held on the frozen Pangong Tso lake.
The marathon was conducted at an altitude of 4,350 metres.
With this, it makes the Guinness record for World's Highest Frozen Lake Marathon. It is the first frozen lake marathon in India.
The marathon included a 21 km long run.
It began in Luking village.
The marathon was organized by the Council of Ladakh along with the Adventure Sports Foundation of Ladakh.
Pangong Tso Lake:
The lake has saline water and is completely frozen during winter.
Researchers believe that the lake was a part of the Indus river system in early times.
Today, however, the lake lies separated from the Indus river.
It is the highest saltwater lake in the world.