G20 Foreign Ministers Meeting: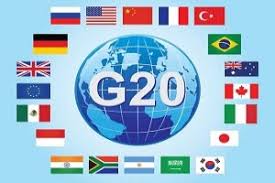 Italy hosted the G-20 foreign ministers' meeting to discuss the fight against Covid-19 and how to speed up the recovery of the global economy and boost sustainable development in Africa.
Currently, Italy holds the presidency of G-20. The G-20 summit is scheduled to be held in Italy in October, 2021.
India is expected to hold the presidency of the G-20 in 2023.
About the Meeting:
On Covid-19:

Criticized China and Russia for engaging in vaccine diplomacy.
Vaccine diplomacy is the branch of global health diplomacy in which a nation uses the development or delivery of vaccines to strengthen ties with other nations.
Promoting a science-based holistic One Health approach.
'One Health' is an approach to designing and implementing programmes, policies, legislation and research in which multiple sectors communicate and work together to achieve better public health outcomes.

On Climate Change:

Increased climate variability and extreme weather events impact agriculture output and are among the forces driving the rise in global hunger.

On Africa:

The Covid-19 pandemic, conflict, drought, economic woes, and extreme weather are reversing years of progress.
In the whole of Africa, 250 million people were experiencing hunger, which is nearly 20% of the population (as of 2019).