G-20 Foreign Ministers Meeting: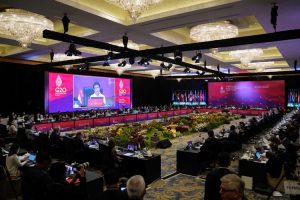 The External Affairs Minister of India met with the US Secretary of State and Russian Foreign Minister and other counter parts in Bali (Indonesia) on the sidelines of the G20 Foreign Ministers Meeting.
The meeting was held under the theme of "Building a more peaceful, stable, and prosperous world together."
G20 Meeting:
India & China:
The External Affairs Minister of India met the State Councilor and Foreign Minister of China.
India called for an early resolution of all the outstanding issues along the LAC in Eastern Ladakh.
Recalling the disengagement achieved in some friction areas, India reiterated the need to sustain the momentum to complete disengagement from all the remaining areas to restore peace and tranquility in the border areas.
Both sides affirmed that the military and diplomatic officials of the two sides should continue maintaining regular contact and looked forward to the next round of Senior Commanders' meeting at an early date.
China appreciated India's support during its BRICS Chairmanship this year and assured China's support for India's upcoming G20 and SCO Presidency.