Lab-Grown Diamonds : Customs Duty Reduced (Union Budget 2023)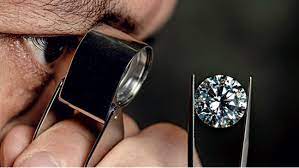 In a recent Budget speech Union finance Minister announced that the Customs duty on the seeds used in lab-grown diamond manufacturing will be reduced.
Lab-grown diamonds are diamonds that are produced using specific technology which mimics the geological processes that grow natural diamonds.
The diamond simulants such as Moissanite, Cubic Zirconia (CZ), White Sapphire, YAG, and others are used to make them look like natural diamonds.
There are multiple ways in which LGDs can be produced.
High pressure, high temperature" (HPHT) method
It is the most common and cheapest method.
In this method, extremely heavy presses that can produce up to 730,000 psi of pressure under extremely high temperatures of at least 1500 celsius are applied.
Usually, graphite is used as the "diamond seed" and when subjected to these extreme conditions, the relatively inexpensive form of carbon turns into one of the most expensive carbon forms.
Chemical Vapor Deposition (CVD) and explosive formation create what is known as detonation nanodiamonds.