Very Short-Range Air Defence System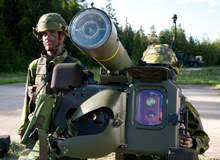 The Defence Acquisition Council (DAC) headed by Defence Minister accorded Acceptance of Necessity (AoN) to critical procurements for the defence forces, including that of the Very Short Range Air Defence System or VSHORAD (IR Homing) missile system.
VSHORAD missile system is a man-portable air defence system (MANPADS).
These are short-range, lightweight and portable surface-to-air missiles that can be fired by individuals or small groups to destroy aircraft or helicopters.
They are having a maximum range of 8 kilometres and can engage targets at altitudes of 4.5 km.
The missile incorporates many novel technologies including a miniaturized Reaction Control System (RCS) and integrated avionics, which have been successfully proven during the tests.
The RCS is responsible for attitude control and steering by the use of thrusters and is also capable of providing small amounts of thrust in any desired direction or combination of directions.
Designed and developed by DRDO's Research Centre Imarat (RCI), Hyderabad in collaboration with other DRDO laboratories and Indian Industry Partners.