Lingaraj Temple Ordinance: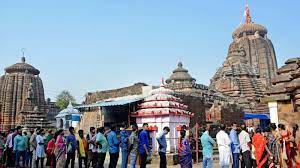 The Central government has told the Odisha government that its ordinance to bring the 11thcentury Lingaraj temple in Bhubaneswar and its associated temples under a special law is outside the legislative competence of the state legislature.
Lingaraj temple is the largest temple in Bhubaneswar.
Constructed by King Jajati Keshari in the 10th Century and completed by King Lalatendu Keshari in the 11thcentury.
The temple is built in the Deula style.
The temple, dedicated to Lord Shiva, marks the culmination of the temple architecture in Bhubaneswar which was the cradle of the Kalinga School of Temple Architecture.
Lingaraj Temple Ordinance of 2020 covers 12 centrally protected monuments including the Lingaraj temple and three tanks.
The ordinance has a provision for retail shops for sale of commodities inside or outside of the temples.
The managing committee will oversee the lease or sale of movable or immovable property attached with the Lingaraj temple.
It has Provisions for Repair and construction of new buildings.
The Union Ministry of Home Affairs (MHA) has said several provisions of the proposed ordinance were in conflict with the Ancient Monuments and Archaeological Sites and Remains (AMASR) Act, 1958.
Firstly, it was outside the legislative competence of the state legislature as it violates the provisions of AMASR Act. Under AMASR Act, the Archaeological Survey of India (ASI) is responsible for the conservation and preservation of these 12 centrally protected monuments.
As per AMASR Act a monument should not be used for any other purposes not consistent with its character. Allowing retail shops to be constructed under the ordinance violates this provision.
As per the AMASR Act, new constructions are not allowed in prohibited areas (100 metre zone from protected monument).