Daily Current Affairs for Government Exams:
Today Current Affairs: 19th June 2020 for UPSC IAS exams, State PSC exams, SSC CGL, State SSC, RRB, Railways, Banking Exam & IBPS, etc
Contents:
Non-permanent member of the UN Security Council (UNSC) for the term 2021-22
'Garib Kalyan Rojgar Abhiyaan' :
Russia-India-China grouping:
Global Trends report:
Uighur rights Bill:
Satellite Micius
Other important current affairs:
1. Non-permanent member of the UN Security Council (UNSC) for the term 2021-22 :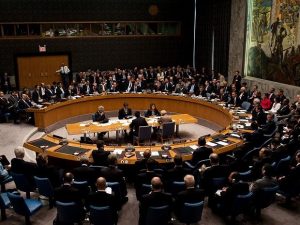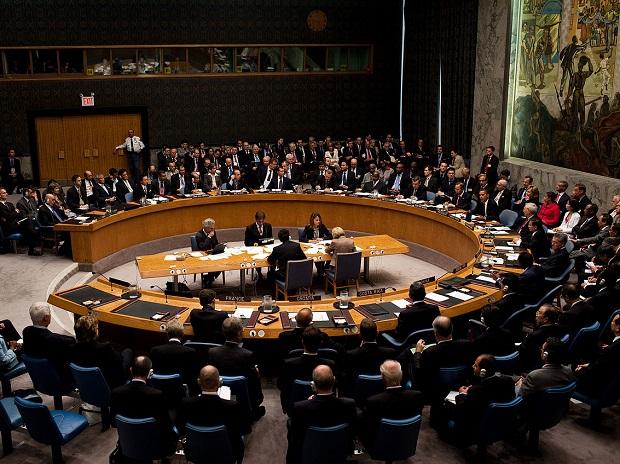 India has been elected as a non-permanent member of the UN Security Council (UNSC) for the term 2021-22 after winning 184 votes in the 193-member General Assembly. Along with India, Ireland, Mexico and Norway also won the Security Council elections.
'Non-permanent seats' at the UNSC
The UNSC is composed of 15 members: five permanent members — China, France, Russian Federation, the United States, and the United Kingdom — and 10 non-permanent members who are elected by the General Assembly.
The non-permanent members are elected for two-year terms — so every year, the General Assembly elects five non-permanent members out of the total 10.
These 10 seats are distributed among the regions of the world: five seats for African and Asian countries; one for Eastern European countries; two for Latin American and Caribbean countries; and two for Western European and Other Countries.
Of the five seats for Africa and Asia, three are for Africa and two for Asia. Also, there is an informal understanding between the two groups to reserve one seat for an Arab country. The Africa and Asia Pacific group takes turns every two years to put up an Arab candidate.
India and UNSC
India was a candidate for a non-permanent seat from the Asia-Pacific category for the 2021-22 term.
India's overall objective during the fresh tenure in the UN Security Council will be the achievement of O.R.M.S. which stands for New Orientation for a Reformed Multilateral System.
This is the eighth time that India will sit at the UN high-table. India has earlier been a non-permanent member of the Security Council in 1950-51, 1967-68, 1972-73, 1977-78, 1984-85, 1991-92 and 2011-12. For the 2011-12 term, India won 187 of 190 votes after Kazakhstan stood down from its candidacy.
2. 'Garib Kalyan Rojgar Abhiyaan' :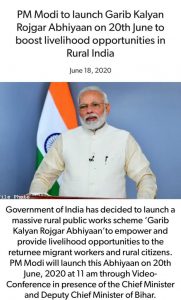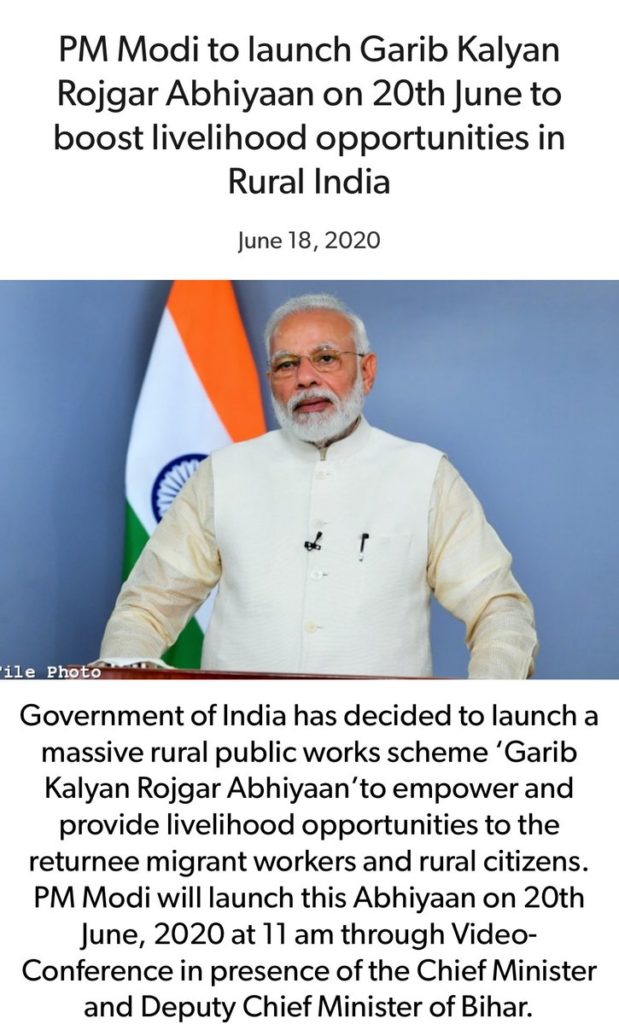 The Government of India has decided to launch a rural public works scheme 'Garib Kalyan Rojgar Abhiyaan' through video-conferencing from village Telihar in Khagaria district of Bihar on 20th June 2020.
The scheme will empower and provide livelihood opportunities to the returnee migrant workers and rural citizens who have returned to their home states due to the Covid-19 induced lockdown.
This campaign will work in mission mode for 125 days with an outlay of Rs. 50,000 crore.
A total of 116 districts across six states, namely Bihar, Uttar Pradesh, Madhya Pradesh, Rajasthan, Jharkhand and Odisha (where maximum migrant workers have returned) have been chosen for the campaign.
These districts are estimated to cover about 2/3 of such migrant workers.
The chosen districts include 27 Aspirational Districts.
Aspirational Districts are those districts in India which are affected by poor socio-economic indicators. These are aspirational in the context, that improvement in these districts can lead to the overall improvement in human development in India.
It is a NITI Aayog's Programme.
It will involve intensified and focused implementation of 25 different types of works to provide employment to the migrant workers on one hand and create infrastructure in the rural regions of the country on the other hand.
The workers will help build gram panchayat Bhawan and Anganwadi centers, national highway works, railway works, and water conservation projects, among others across six states.
12 different Ministries/Departments, namely, Rural Development, Panchayati Raj, Road Transport and Highways, Mines, Drinking Water and Sanitation, Environment, Railways, etc. will be coordinating for the implementation of the scheme.
The villages will join this programme through the Common Service Centres (CSCs) and Krishi Vigyan Kendras (KVKs) maintaining the norms of social distancing in the wake of the pandemic.
3.Russia-India-China grouping: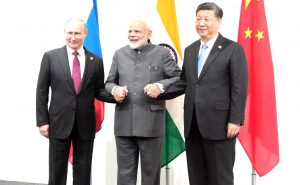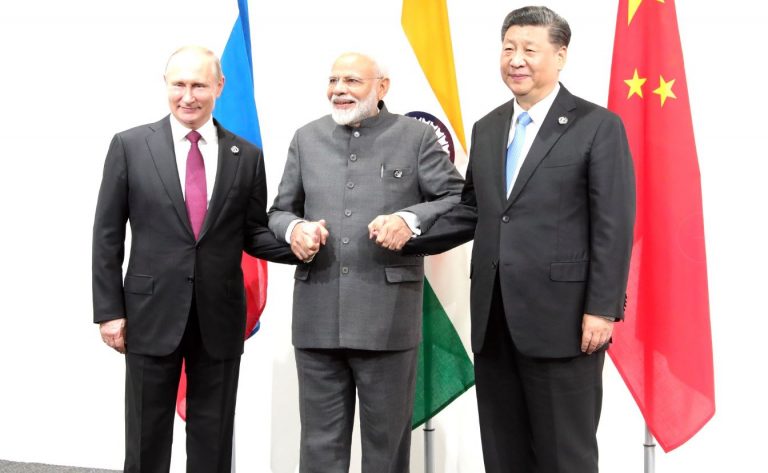 India will participate in the virtual meeting of the Russia-India-China grouping on June 23.
The Indian decision to go ahead with the ministerial level exchange has created an opening for de-escalation of tension along the Line of Actual Control with the Russian diplomatic sources indicating that they support "constructive dialogue" over the tension in eastern Ladakh.
RIC:
It is Conceived by the then Russian foreign minister Yevgeny Primakov in 1998.
The group was founded on the basis of "ending its subservient foreign policy guided by the U.S.," and "renewing old ties with India and fostering the newly discovered friendship with China."
Together, the RIC countries occupy over 19 per cent of the global landmass and contribute to over 33 per cent of global GDP.
All three are nuclear powers and two, Russia and China, are permanent members of the UN Security Council, while India aspires to be one.
The trio could also contribute to creating a new economic structure for the world
They could work together on disaster relief and humanitarian assistance.
4. Global Trends report: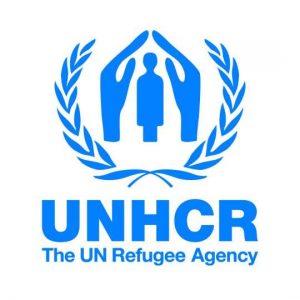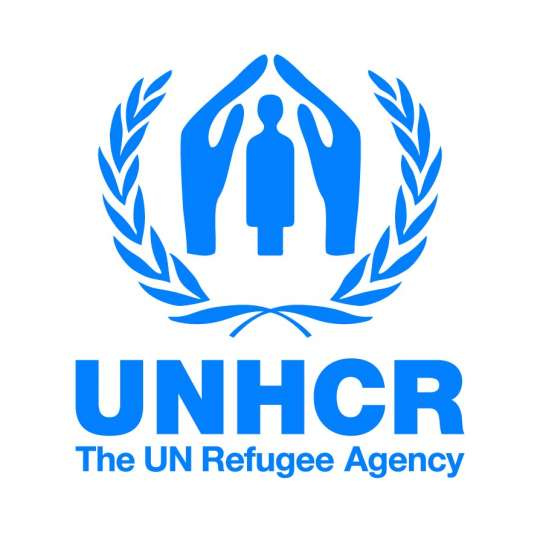 The United Nations High Commissioner for Refugees (UNHCR) has released its annual Global Trends.
Global Trends is published every year to count and track the numbers of refugees, internally displaced people, people who have returned to their countries or areas of origin, asylum-seekers, stateless people and other populations of concern to UNHCR.
Key Points
Displacement in 2019:
Nearly 80 million people were forcibly displaced by the end of 2019 which is nearly 1% of the global population.
Half of those displaced were children.
Of the 80 million people, 26 million were cross-border refugees, 45.7 million were internally displaced people, 4.2 million were asylum seekers and 3.6 million were Venezuelans displaced abroad.
More than eight of every 10 refugees (85%) are in developing countries, generally a country neighbouring the one they fled.
Five countries account for two-thirds of people displaced across borders: Syria, Venezuela, Afghanistan, South Sudan and Myanmar.
Syria has been the top country of origin for refugees since 2014.
Reason of Displacement:
Persecution, conflict, violence, human rights violations or events seriously disturbing public order were the main reasons behind the forced displacement.
80% of the world's displaced people are in countries or territories affected by acute food insecurity and malnutrition – many of them facing climate and another disaster risk.
Comparison of Displacement in the Past Decade (2010-19):
The number of refugees doubled from about 10 million in 2010 to 20.4 million at the end of 2019. Close to 53% were newly displaced.
1 in every 97 people was affected by forced displacement in 2019, compared to 1 in every 159 people in 2010 and 1 in every 174 in 2005.
Nearly to 40% of those displaced (or 30-34 million) forcibly between 2010-2019 include children below 18 years of age.
Very few people who have been displaced were able to return to their homes.
In the 1990s, on average 1.5 million refugees were able to return home each year.
That number has fallen to around 3,85,000 in the past decade (2010-2019).
5. Uighur rights Bill: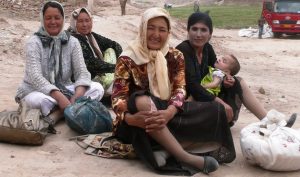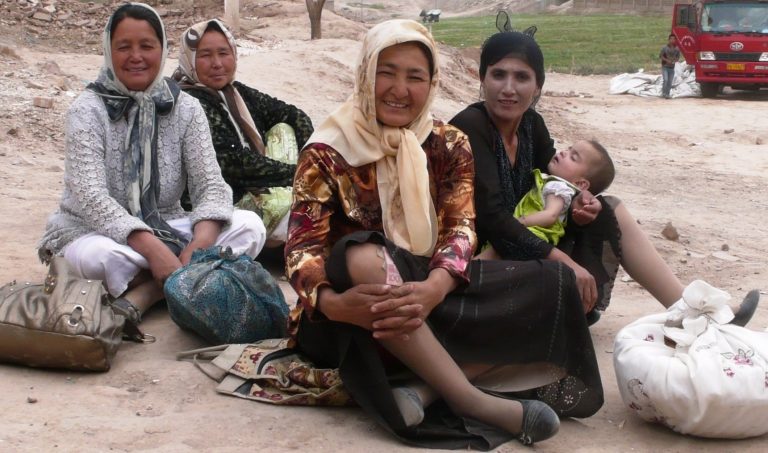 U.S. President Donald Trump has signed legislation calling for sanctions over the repression of China's Uighur Muslims.
The Bill calls for sanctions against those responsible for the repression of Uighurs and other Muslim groups in China's Xinjiang province, where the United Nations estimates that more than a million Muslims have been detained in camps.
It singles out the region's Communist Party secretary, Chen Quanguo, as responsible for "gross human rights violations" against them.
The Bill also calls on U.S. firms operating in Xinjiang region to ensure their products do not include parts using forced labour.
The United Nations estimates that more than a million Muslims have been detained in camps in the Xinjiang region. The U.S. State Department has accused Chinese officials of subjecting Muslims to torture, abuse "and trying to basically erase their culture and their religion."
Uighurs:
Uighurs are a Muslim minority community concentrated in the country's northwestern Xinjiang province.
They claim closer ethnic ties to Turkey and other central Asian countries than to China, by brute and brutal force.
Xinjiang is technically an autonomous region within China its largest region, rich in minerals, and sharing borders with eight countries, including India, Pakistan, Russia and Afghanistan.
Over the past few decades, as economic prosperity has come to Xinjiang, it has brought with it in large numbers the majority Han Chinese, who have cornered the better jobs, and left the Uighurs feeling their livelihoods and identity were under threat.
This led to sporadic violence, in 2009 culminating in a riot that killed 200 people, mostly Han Chinese, in the region's capital Urumqi. And many other violent incidents have taken place since then.
Beijing also says Uighur groups want to establish an independent state and, because of the Uighurs' cultural ties to their neighbours, leaders fear that elements in places like Pakistan may back a separatist movement in Xinjiang.
Therefore, the Chinese policy seems to have been one of treating the entire community as a suspect and launching a systematic project to chip away at every marker of a distinct Uighur identity.
6.Satellite Micius: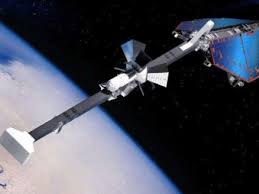 Recently, satellite Micius has sent light particles to Earth to establish the world's most secure communication link.
Micius:
It is the world's first quantum communications satellite, launched by China in 2016.
The satellite serves as the source of pairs of entangled photons.
Entangled photons are twinned light particles whose properties remain intertwined no matter how far apart they are.
If one of the photons is manipulated, the other will be similarly affected at the very same moment.
It is this property that lies in the heart of the most secure forms of quantum cryptography (the study of concepts like encryption and decryption).
If one of the entangled particles is used to create a key for encoding messages, only the person with the other particle can decode them.
Micius has successfully brought entanglement-based quantum cryptography to its original ground stations 1,200 km apart by sending simultaneous streams of entangled photons to the ground stations to establish a direct link between the two of them.
The satellite provided entangled photons as a convenient resource for the quantum cryptography and the two ground stations then used them according to their agreed protocol.
None of the communication went through Micius (i.e behaved like a blind transmitter) providing the ground stations with a robust and unbreakable cryptographic protection without the need to trust the satellite.
Until now, this had never been done via satellite or at such great distances.
It has not been specified how the messages were transmitted in this instance but in theory, it could be done by optical fibre, another communications satellite, radio or any other agreed method.
Scientists have started using quantum encryption for securing long-range communication and Micius has been at the forefront of quantum encryption for several years.
Other important current affairs:
1. According to the Asian Development Outlook (ADO) released by the Asian Development Bank (ADB), the Indian economy is expected to contract by 4% during the current financial year (2020-21).
Earlier, in April 2020, ADB had projected India's economy to grow at 4% in 2020-21.
The ADO analyzes economic and development issues in developing countries in Asia. This includes forecasting the inflation and growth rates of countries throughout the region, including China and India.
Reasons for Contraction:

Global health emergency created by the Covid-19 pandemic.
After the introduction of lockdowns in late March 2020, economic activity in South Asia came to standstill.
The lockdown also disrupted the supply chain.
The Gross Domestic Product (GDP) slowed to 3.1% in the last quarter (Jan-March) of the financial year 2019-20. It is the slowest since early 2003.
The overall economic growth slowed to 4.2% in 2019-20 as both exports and investment started to contract.
The Purchasing Managers' Index fell to all-time lows in April 2020.
Migrant workers have gone home to their villages after losing their jobs in the cities and will be slow to return to cities to work again.
2. The Kodumanal excavation of 10 pots and bowls, instead of the usual three or four pots, placed outside three-chambered burial cists and inside the cairn-circle, has thrown light on burial rituals and the concept of an afterlife in megalithic culture.
Kodumanal is a village located in the Erode district in Tamil Nadu. It is located on the northern banks of Noyyal River, a tributary of the Cauvery.
It was once a flourishing ancient trade city known as Kodumanam, as inscribed in Patittrupathu of Sangam Literature.
The place is an important archaeological site, under the control of State Archaeological Department of Tamil Nadu.
A megalith is a large pre-historic stone that has been used to construct a structure or monument, either alone or together with other stones.
Megaliths in South Asia are dated before 3000 BC, with recent findings dated back to 5000 BC in southern India.
3. The Minister for Science & Technology inaugurated and flagged off India's first I-Lab (Infectious disease diagnostic lab) for COVID testing in rural and inaccessible areas of India.
The Department of Biotechnology (DBT), Ministry of Science & Technology along with Andhra Pradesh Med-tech Zone (AMTZ) has initiated the DBT-AMTZ COMManD [COVID Medtech Manufacturing Development] Consortia to address the shortage of critical healthcare technologies in India and move progressively towards a stage of self-sufficiency.
AMTZ is Asia's first medical equipment manufacturing ecosystem, uniquely dedicated to Medtech and supported by various Ministries.
4. The Khadi and Village Industries Commission (KVIC) has rolled out a unique project to produce Neera and Palm jaggery which has huge potential to create employment.
The project that aims at promoting Neera as a substitute to soft drinks while also creating self-employment to Adivasis and traditional trappers was launched at Dahanu in Palghar district of Maharashtra.
Neera, extracted from palm trees before sunrise, is a nutrient-rich health drink consumed in many states. However, due to the lack of institutionalized market technique, the commercial production and large scale marketing of Neera has not commenced yet.
There are about 10 crore palm trees across the country and a wide range of products like candies, milk chocolates, palm cola, ice-cream and traditional sweets can be produced from neera if properly marketed.
India has an abundance of palm fields in states like Maharashtra, Gujarat, Goa, Daman & Diu, Dadra and Nagar Haveli, Tamil Nadu, Uttar Pradesh and Bihar that can make India a leading producer of Neera globally.
5. The sixth annual International Day for the Elimination of Sexual Violence in Conflict 2020 is being observed on 19 June.
The term "conflict-related sexual violence" refers to rape, sexual slavery, forced prostitution, forced pregnancy, forced abortion, enforced sterilization, forced marriage and any other form of sexual violence perpetrated against women, men, girls or boys that is directly or indirectly linked to a conflict.
On 19 June 2015, the United Nations General Assembly proclaimed 19 June of each year the International Day for the Elimination of Sexual Violence in Conflict
The date was chosen to commemorate the adoption on 19 June 2008 of Security Council resolution 1820 (2008), in which the Council condemned sexual violence as a tactic of war and an impediment to peacebuilding.
The day aims to raise awareness of the need to put an end to conflict-related sexual violence and to honour the victims and survivors of sexual violence around the world.
6.The Central Drug Research Institute (CDRI), Lucknow, a constituent lab of the Council of Scientific and Industrial Research (CSIR), has received permission for carrying out Phase III trials for the use of Umifenovir against Covid-19.
These trials will be randomised, double-blind, placebo-controlled that will test the efficacy, safety and tolerability of the drug.
Umifenovir has already been used for the treatment of influenza in China and Russia and therefore is safe.
It recently came into prominence due to its potential use for Covid-19 patients.
The clinical trial is to evaluate its efficacy in Indian patients.
It acts by preventing entry of the virus into human cells and also by priming the immune system.
All the raw materials for the drug are indigenously available and if the clinical trial is successful, Umifenovir can be a safe, efficacious, affordable drug against Covid-19.
It has the potential for prophylactic use. A prophylactic is a medication or a treatment designed and used to prevent a disease from occurring.
7. National Research Development Corporation (NRDC), an enterprise of DSIR, Ministry of Science, has licensed the manufacturing know-how of a PPE Suit being named as NavRakshak to five MSME clients to meet the ongoing countrywide demand of quality PPE kits.
These manufacturers put together are planning to mass-produce more than 10 million PPEs per year.
The manufacturing know-how of NavRakshak PPE has been developed at the Innovation Cell of the Institute of Naval Medicine, INHS Asvini Hospital (Mumbai).
The PPE has been tested and certified at the INMAS, DRDO which is one of the nine NABL accredited labs authorised by Ministry of Textile currently in India for PPE prototype sample testing as per the prevailing ISO standards and Ministry of Health /Ministry of Textile guidelines.