General Bipin Rawat Military Garrison: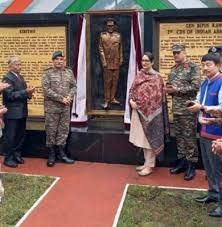 The military camp at Kibithu, which is very close to the Line of Actual Control (LAC) in Arunachal Pradesh, has been renamed "General Bipin Rawat military garrison" in honour of the country's first Chief of Defence Staff (CDS), who was killed in a chopper crash last December.
Kibithu is a small hamlet on the banks of the Lohit Valley in the Rest of Arunachal Pradesh (RALP) close to the LAC.
Gen. Rawat commanded his Battalion 5/11 Gorkha Rifles here as a Colonel from 1999 to 2000.
A gate built in local traditional architectural style was inaugurated by Governor Brigadier D.B. Mishra (retd).
The 22-km road stretch from Walong to Kibithu was dedicated as General Bipin Rawat Marg by Mr. Khandu.
The Indian Air Force (IAF) Mi-17V5 helicopter with Gen. Rawat, his wife Madhulika Rawat and 12 others including his staff, the pilots and crew was en route to the Defence Services Staff College, Wellington from Sulur on December 8 when it crashed in the Nilgris in Tamil Nadu close to the destination.
This January, on the eve of Republic Day, General Rawat was posthumously awarded the Padma Vibushan.