Solicitor General: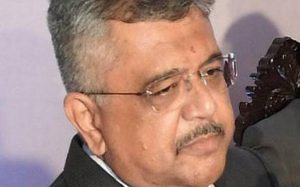 A delegation of Trinamool Congress (TMC) MPs recently met President Ram Nath Kovind and sought the removal of Tushar Mehta as the Solicitor General of India, on the grounds of "criminal misconduct" and "gross impropriety" following his meeting with BJP MLA Suvendu Adhikari.
Suvendu Adhikari is an accused in the 2016 Narada tapes case, and Mr. Mehta is representing the CBI in the Supreme Court and the Calcutta High Court in the agency's probe against senior TMC leaders in the matter.
Experts say such a meeting, between one of the highest serving law officers of India, the Solicitor General, who is also appointed as the Special Public Prosecutor for the CBI and an accused person being investigated by the same agency, raises extremely serious doubts of impropriety.
Also, Such meetings make a mockery of the criminal justice system and would only serve to destroy the common man's faith in the judiciary.
Solicitor General:
Solicitor General is the second highest law officer in the country.
He is subordinate to the Attorney General of India, the highest law officer and works under him.
He also advises the government in legal matters.
Solicitor general is appointed for period of three years by Appointment Committee of Cabinet chaired by Prime Minister.