Chair Of Excellence: General Bipin Rawat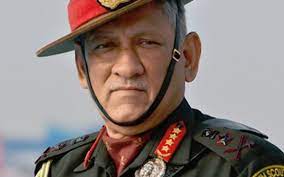 On the eve of the 65th birthday of late Chief of Defence Staff (CDS), General Bipin Rawat, the Indian Army has instituted a Chair of Excellence in his memory at the United Service Institution of India (USI).
The formal announcement was made by Gen. Manoj Naravane, Chief of Army Staff and Officiating Chairman, Chiefs of Staff Committee, at a ceremony organised at South Block.
The aim of the proposed Chair of Excellence will be to conduct research on strategic issues of significance pertaining to the armed forces.
The Chair will be open to veterans of the three Services and civilians having expertise in the field of national security and military affairs.
Naravane also handed over a cheque for ₹5 lakh to Maj. Gen. B.K. Sharma (retd), Director, USI, which will be paid as honorarium to the nominated Chair of Excellence.
United Service Institution of India (USI) is a national security and defence services think tank based in New Delhi.
It was founded in 1870 by a soldier scholar, Colonel (later Major General) Sir Charles MacGregor.