Prof. Kothapalli Jayashankar Award: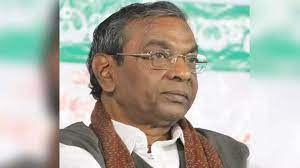 Acharya N. Gopi, a renowned poet, literary critic, and recipient of the Sahitya Akademi Award, has been selected as the recipient of the prestigious Prof. Kothapalli Jayashankar Award.
The award, instituted by Bharat Jagruthi, a cultural organization affiliated with Bharat Rashtra Samithi, aims to honor accomplished literary figures.
The felicitation ceremony will take place on June 21 at the Telangana Saraswatha Parishath in Abids.
Acharya Gopi has written a remarkable total of 56 books.
His diverse repertoire includes 26 collections of poems, 7 compilations of essays, 5 translations, and 3 research books.
His literary works have garnered widespread acclaim, leading to translations into several Indian languages and even foreign languages such as German, Persian, and Russian.
Kothapalli Jayashankar :
Popularly known as Professor Jayashankar, was an Indian academic and social activist.
He was a leading ideologue of the Telangana Movement
He fought for a separate state beginning in 1952
He often stated that unequal distribution of river water was the root cause of the separate Telangana movement.
He was the former Vice-Chancellor of Kakatiya University and an activist in the Separate Telangana Movement.