Global Conference On Millets: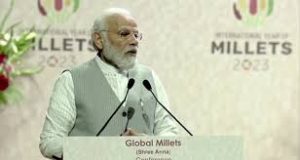 At the inaugural edition of the global conference on millets, the PM of India spoke about how millets, considered to be "high-fibre foods", are effective for health.
Based on India's proposal, the year 2023 was declared the International Year of Millets (IYM) by the UNGA.
In order to make the IYM 2023 a 'people's movement' and position India as the 'global hub for millets', all stakeholders are being engaged to spread awareness about the benefits of millets for the Cultivator, Consumer and the organisation of the Global Millets (Shree Anna) Conference in India is an important programme in this context.
It was organised by the Agricultural and Processed Food Products Export Development Authority (APEDA), Ministry of Commerce and Industry.