Global Report On Neglected Tropical Diseases 2023: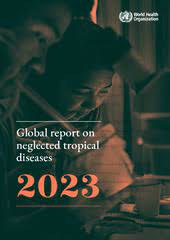 According to the "Global report on neglected tropical diseases 2023" report published on World NTD Day — January 30, 2023, by World Health Organization (WHO), Neglected Tropical Diseases (NTD) continue to disproportionately impact the most impoverished members of the international community, living in areas with inadequate water safety, sanitation and access to health care.
Neglected Tropical Diseases are a group of 20 conditions mainly prevalent in tropical areas where people do not have access to clean water or safe ways to dispose of human waste.
They are caused by various pathogens, including viruses, bacteria, parasites, fungi, and toxins.
NTDs are most common among marginalized communities in the developing regions of Africa, Asia, and the Americas.
16 countries accounted for 80 per cent of the global NTD burden. Globally, nearly 1.65 billion people were estimated to require treatment for at least one NTD.
The document also highlighted the tremendous effects COVID-19 had on community-based initiatives, access to healthcare facilities, and healthcare goods supply chains.
As a result, between 2019 and 2020, 34 per cent fewer persons received treatment for NTDs.