6th Meeting Of National Association Of Street Vendors Of India (NASVI):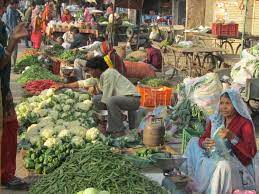 The Minister for Housing and Urban Affairs addressed the 6th meeting of National Association of Street Vendors of India (NASVI) with the theme as "From Encroachers to Self-Employed".
Street Vendor is a person who offers goods for sale to the public at large without having a permanent built-up structure from which to sell.
Street vendors may be stationary in the sense that they occupy space on the pavements or other public/priv.ate spaces or, they may be mobile in the sense that move from place to place by carrying their wares on push carts or in baskets on their heads.
There is a substantial increase in the number of street vendors in the major cities around the world, especially in the developing countries of Asia, Latin America and Africa.
Around 49.48 lakh street vendors have been identified in India.
Uttar Pradesh has the maximum at 8.49 lakh, followed by Madhya Pradesh at 7.04 lakh.
Delhi has only 72,457 street vendors.
No street vendor has been identified in Sikkim.