Gross Domestic Climate Risk Ranking: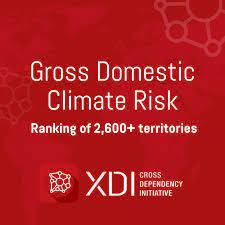 According to Gross Domestic Climate Risk ranking by Cross Dependency Initiative (XDI), India has nine states in the 50 high risk states including Punjab, Bihar, Uttar Pradesh, Maharashtra, Rajasthan, Tamil Nadu, Gujarat, Kerala and Assam.
XDI is a global organisation specialising in climate risk analysis for regions, banks and companies.
The index calculated the 'Physical climate risk' to built environments such as buildings and properties across 2,600 States and provinces globally in 2050.
The index assigned an Aggregated Damage Ratio (ADR) to each region, which signifies the total amount of damage a region's built environment would sustain in 2050. A high ADR signifies more peril.
Global Findings:
According to report the vast majority (80%) of 50 provinces facing the highest climate risk to their physical infrastructure by 2050 are in China, the US, and India.
Two of China's largest sub-national economies – Jiangsu and Shandong – top the global ranking; followed by the U.S. which has 18 regions in the top 100 list.
Asia dominates the list with 114 of the top 200 regions falling in the continent, including Pakistan, Indonesia and most South East Asian countries.
Devastating flooding in 2022 affected 30% of the area of Pakistan and has partially or fully damaged more than 9 lac houses in Sindh province.
India Specific Findings:
Under high emissions scenarios such as the Representative Concentration Pathway (RCP) 8.5 , high risk provinces will witness an average of 110% increase in damage risk by 2050.
Currently, with 0.8 degrees rise in temperature, India's 27 states and more than three-quarters of its districts are extreme event hotspots accounting for a 5% loss in GDP.
If global warming is not limited to 2-degree thresholds, climate-vulnerable states in India will lose more than 10% of their gross state domestic product (GSDP).
Bihar, Assam, and Tamil Nadu had the highest ADR among other Indian States. Assam, in particular, would witness the maximum increase of climate risk: rising up to 330% by 2050.
Assam has witnessed an experienced exponential increase in flood events since 2011, and it had 15 of India's 25 districts most vulnerable to climate change.
11 of the 36 districts in Maharashtra were found to be "highly vulnerable" to extreme weather events, droughts and dwindling water security.