Guru Tegh Bahadur: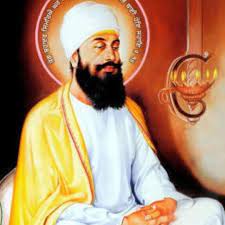 November 24 is commemorated as the Shaheedi Divas of Guru Tegh Bahadur.
Guru Tegh Bahadur (1621 – 1675) was the ninth of ten Gurus of the Sikh religion.
He was born as Tyaga Mal. He came to be known by the name Teg Bahadur (Mighty of The Sword), given to him by Guru Hargobind after he shown his valour in a battle against the Mughals.
His father was the Sixth guru, Guru Hargobind. His son Guru Gobind Singh, became the tenth Sikh guru.
He built the city of Anandpur Sahib (in Rupnagar/Ropar district, on the edge of Shivalik Hills, near the Sutlej River, in Punjab).
Here the last two Sikh Gurus lived and where Guru Gobind Singh Ji founded the Khalsa Panth in 1699.
He contributed more than 100 poetic hymns to Granth Sahib which cover various topics, such as the nature of God, human attachments, body, mind, dignity service etc.
He resisted the forced conversions of Kashmiri Pandits and non-Muslims to Islam.
He was publicly beheaded in 1675 on the orders of Mughal emperor Aurangzeb in Delhi for himself refusing to convert to Islam. He is remembered for giving up his life for freedom of religion.
His martyrdom is remembered as the Shaheedi Divas of Guru Tegh Bahadur every year on 24 November, according to the Nanakshahi calendar released by the Shiromani Gurdwara Parbandhak Committee in 2003.
Gurudwara Sis Ganj Sahib mark the place of his execution.
Gurdwara Rakab Ganj Sahib mark the places of cremation of his body.