Kudumbashree Celebrates Silver Jubilee: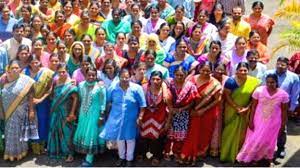 President Droupadi Murmu, during her recent visit to Kerala, inaugurated the silver jubilee celebrations of Kudumbashree, the largest self-help group network in the country.
Kudumbashree was established in 1997 in Kerala, aiming at eradicating poverty and empowering women following the recommendations of a government-appointed task force.
The mission was launched with the support of the Government of India and NABARD
Kudumbashree meaning 'prosperity of the family' in the Malayalam language and therefore focuses on poverty alleviation and women empowerment, promoting democratic leadership and provides support structures within the "Kudumbashree family."
The mission operates through a Three-Tier structure consisting of,

Neighbourhood Groups (NHGs) at the primary level
Area Development Societies (ADS) at the ward level
Community Development Societies (CDS) at the local government level.
This structure forms a large network of Self-Help Groups.
Self-Help Group:
Self-Help Groups (SHGs) are informal associations of people who choose to come together to find ways to improve their living conditions.
It can be defined as a self-governed, peer-controlled information group of people with similar socio-economic backgrounds and having a desire to collectively perform a common purpose.
SHG relies on the notion of "Self Help" to encourage self-employment and poverty alleviation.