Shankhalipi Inscriptions On The stairs On An Ancient Temple: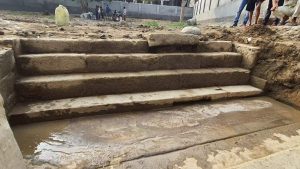 Archeologists have found 'shankhalipi' inscriptions on the stairs on an ancient temple dating back to the Gupta period in Uttar Pradesh's Etah district.
The inscriptions mention 'Sri Mahendraditya', the title of Kumaragupta I of the Gupta dynasty.
Two decorative pillars close to one another, with human figurines have been discovered at Bilsarh site. The discovery becomes significant since only two other structural temples from the Gupta age have been found so far — Dashavatara Temple (Deogarh) and Bhitargaon Temple (Kanpur Dehat).
About the Shankhalipi script:
Shankhalipi or "shell-script" describe ornate spiral characters assumed to be Brahmi derivatives that look like conch shells or shankhas.
They are found in inscriptions across north-central India and date to between the 4th and 8th centuries.
The inscriptions consist of a small number of characters, suggesting that the shell inscriptions are names or auspicious symbols or a combination of the two.
The script was discovered in 1836 on a brass trident in Uttarakhand's Barahat by English scholar James Prinsep, who was the founding editor of the Journal of the Asiatic Society of Bengal.