Hasarius Mumbai : New Species Of Jumping Spider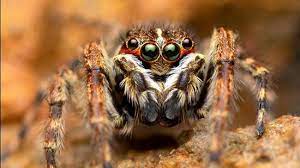 A new species of jumping spider named 'Hasarius Mumbai' was recently discovered from the rocks close to the streams at the Bombay Natural History Society's (BNHS) conservation education centre in Goregaon East.
Hasarius Mumbai is a newly discovered species of jumping spider.
These are spiders who, instead of trapping their prey in a web, stalk and hunt them by pouncing.
It has multiple eyes that give a 360-degree view of its surroundings and a bulbous body covered in hair.
The word 'Hasarius' refers to a genus that ranks the species — of 'jumping spiders' in the 'salticidae' family.
This genus, first discovered in the year 1826, occurs primarily in warm climates.
In India, there are only two other Hasarius species which have been documented, namely H. Adansoni, which is found across the country, including in urban areas, and kjellerupi, which was documented from the Nicobar Islands.
Bombay Natural History Society (BNHS) is a Non-Governmental Organisation in India engaged in conservation and biodiversity research.
BNHS has been designated as a 'Scientific and Industrial Research Organisation'by the Department of Science and Technology.