Child-Friendly Police Stations – Kerala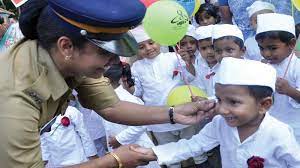 Kerala will shortly have over 142 full-fledged child-friendly police stations (CFPS), giving it a head start over the rest of the country in child-centric policing.
An extensive training has been designed in association with the United Nations Children's Fund (UNICEF) for enhancing skill sets and bringing about attitudinal and mindset changes in officers entrusted with managing the stations.
The idea is to bring a paradigm shift where it is supposed to fill five different roles as the situation demands —

That of an enforcer of children's rights,
A mentor,
A promoter of child rights,
A knowledge and reference centre for all activities related to the care and protection of children,
A facilitator for inter-agency partnerships and civil society engagement.