Hostile Activity Watch Kernel (HAWK) System: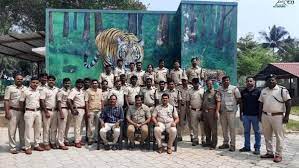 The Karnataka Forest Department, along with the Wildlife Trust of India, launched the Hostile Activity Watch Kernel (HAWK) system.
Hostile Activity Watch Kernel (HAWK) system is Cloud Based Information Management System designed to manage interlinked databases of wildlife crime, wildlife criminals, and wildlife mortality.
It will help officials analyse the information and develop actionable intelligence to prevent wildlife crimes and curb Illegal Wildlife Trade (IWT).
The system connects the entire state forest department in real-time and the access is restricted through access levels.
This is a large ERP model cloud based system that uses mobile and desk top interfaces to manage data.
The entire HAWK system is divided into various modules that are interconnected with individual stand alone functions.
This enables the system to be scaled up or down as per the needs of the state forest department and ensures customization opportunities for each state to accommodate the changes in procedures and also to accommodate the interface in regional languages.
All the data managed by the HAWK system is secured with the government and industry standard security measures are applied to ensure data security.
The development of HAWK started in 2017 in the state of Kerala by a joint team of Kerala Forest Department & Wildlife Trust of India.
The system was officially launched in 2019 in Kerala, and since then it has been the official system of the state forest department.
The implementation of a customised version of HAWK was initiated in 2022 in Karnataka in partnership with the ICT cell of Karnataka forest department, and the system is being implemented across the state.