Periyar Tiger Reserve: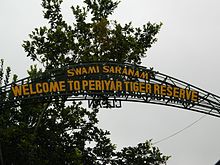 For the first time in the country, the Periyar Tiger Reserve (PTR) in Kerala has taken up the training of a tiger cub to equip it to naturally hunt in the forest environment.
Periyar tiger reserve falls in the districts of Idukki and Pathanamthitta in Kerala (saddled in the southern region of Western Ghats).
Declared a Sanctuary during 1950 and declared as Tiger Reserve during 1978. It gets its name from the River Periyar which has its origin deep inside the reserve.
The major rivers through the reserve are Mullayar and Periyar.
The sanctuary comprises tropical evergreen, semi evergreen, moist deciduous forests and grasslands.
516 flowering plants here are endemic to the Western Ghats.
The sanctuary is a repository of medicinal plants numbering to about 300.
Some are endemic to the region like Syzygium periyarensis (a tree), Habenaria periyarensis (an orchid) and Mucuna pruriense thekkadiensis (a climber) etc.
Fauna: Mammals: Tiger, Elephant, Lion-tailed macaque, Nilgiri Tahr etc.
Birds: Darters, Cormorants, Kingfishers, the great Malabar Hornbill and racket-tailed Drongos.
Reptiles: Monitor Lizards, Python, King Cobra etc.
Tribals: There are six tribal communities nestled inside the reserve such as Mannans, Paliyans, Malayarayans, Mala Pandarams, Uralis and Ulladans.