Hunger Hotspots – August To November 2021: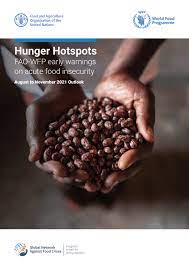 The Food and Agriculture Organization (FAO) and the World Food Programme (WFP) released a report named Hunger Hotspots – August to November 2021.
The 2021 Global Food Crises Report released in May 2021 had already warned of acute food insecurity, soaring to a five-year high, pushing at least 155 million people into acute food insecurity in 2020.
Major Hunger Hotspots:
Ethiopia, Madagascar, South Sudan, northern Nigeria and Yemen are among 23 countries where acute food insecurity will worsen from August through November, 2021.
Ethiopia and Madagascar are the world's newest "highest alert" hunger hotspots.
Ethiopia faces a devastating food emergency linked to ongoing conflict in the Tigray region.
Meanwhile, in southern Madagascar the worst drought in 40 years is expected to push 28,000 people into famine-like conditions by the end of 2021.
About Food and Agriculture Organization:
FAO is a specialized agency of the United Nations (UN) that leads international efforts to defeat hunger.
World Food Day is celebrated every year on 16th October to mark the anniversary of the founding of the FAO in 1945.
It is one of the UN food aid organisations based in Rome (Italy). Its sister bodies are the World Food Programme and the International Fund for Agricultural Development (IFAD).
About World Food Programme:
It is the leading humanitarian organization saving lives and changing lives, delivering food assistance in emergencies and working with communities to improve nutrition and build resilience.
It was award the Nobel Peace Prize for 2020 for its efforts to combat hunger
It was founded in 1961 by the Food and Agriculture Organization (FAO) and United Nations General Assembly (UNGA) with its headquarters in Rome, Italy.
WFP focuses on emergency assistance as well as rehabilitation and development aid.
Two-thirds of its work is in conflict-affected countries, where people are three times more likely to be undernourished than elsewhere.