Tamil Nadu's Manamadurai Pottery : GI Tag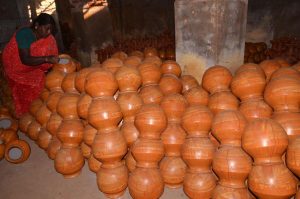 Manamadurai pottery was given GI tag
Manamadurai is in Sivagangai district, Tamil Nadu, India.
Raw materials Soil, water, sand, lead, graphite, calcium lime, ash, red lead, sodium silicate, manganese, iron, and plasticizing.
Unique features Use of a unique type of clay sourced from water bodies; Pot making requires expertise as the bottom has to be perfectly round and the circumference of the pot and the neck should be proportionate; The pot is painted in different colours.