Hydropower Projects In Himalayas: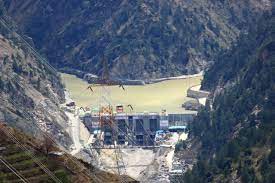 The central government has said that no new Hydropower projects would be allowed in the upper reaches of the Ganga and those sanctioned would have to abide by environment regulations that prescribe a minimum flow in the river at all times of the year to preserve its health.
Seven projects, all in Uttarakhand, have been allowed to complete construction primarily on the ground that they were over 50% complete.
The seven projects are the:

Tehri Stage 2: 1000 MW on Bhagirathi river
Tapovan Vishnugadh: 520 MW on Dhauliganga river
Vishnugadh Pipalkoti: 444 MW on Alaknanda river
Singoli Bhatwari: 99 MW on Mandakini river
Phata Bhuyang: 76 MW on Mandakini river
Madhyamaheshwar: 15 MW on Madhyamaheshwar Ganga
Kaliganga 2: 6 MW on Kaliganga river

IActivists have raised concerns that two projects, Singoli Bhatwari and Phata Bhuyang, which were specifically linked to the Kedarnath Tragedy (2013) have been allowed.
The Vishnugadh project damaged in the February 2021 Floods too has been allowed to progress even though 200 plus people died due to the criminal negligence of there not being a Disaster Warning System.
Hydropower projects, dams and construction activities are affecting the fragile Himalayan region making them susceptible to disasters.