MPLADS: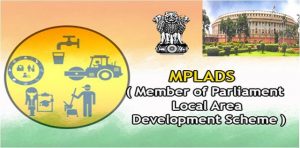 Virtually half of the belated ₹2,200 crore allotted for completing the ongoing MPLADS projects in 2020-21 simply lapsed, as the Finance Ministry granted "barely a week" to the Ministry of Statistics and Programme Implementation (MoSPI) to release the funds.
Spending under the Members of Parliament Local Area Development Scheme (MPLADS) had already halved before the government suspended the scheme for two years in April last year and diverted the funds for managing the COVID-19 pandemic.
From ₹5,012 crore spent during 2018-19, an expenditure of just ₹2,491.45 crore was taken up under the scheme in 2019-20.
Each MP is granted ₹5 crore under the scheme, adding up to ₹3,950 crore a year for 790 MPs, to undertake development projects in their respective constituencies.
After the scheme's suspension, several MPs and parliamentary committees, including the Standing Committee on Finance (SCF), had asked the government to release MPLADS funds due from previous years for projects already sanctioned.
The Finance Ministry also asked the Statistics Ministry to further tighten the scheme's guidelines by September this year, so that "if a work sanctioned by an MP is not used for five years, it will automatically lapse even if there is a committed liability for the work to be completed".
Currently, funds released to district authorities under MPLADS is not lapsable, while funds not released by the government in a particular year are carried forward.