Uniform Civil Code: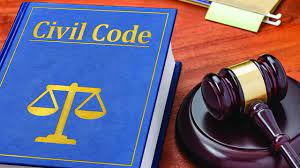 Chief Justice of India (CJI) S A Bobde lauded Goa's Uniform Civil Code, and encouraged "intellectuals" indulging in "academic talk" to visit the state to learn more about it. Earlier in September 2019, the Supreme Court had described Goa as a "shining example" with a Uniform Civil Code.
A Uniform Civil Code is one that would provide for one law for the entire country, applicable to all religious communities in their personal matters such as marriage, divorce, inheritance, adoption, etc.
Article 44 of the Constitution lays down that the state shall endeavor to secure a Uniform Civil Code for the citizens throughout the territory of India.
Directive Principles of State Policy
Article 44 is one of the Directive Principles of State Policy.
These, as defined in Article 37, are not justiciable (not enforceable by any court) but the principles laid down therein are fundamental in governance.
While Article 44 uses the words "the state shall endeavor", other Articles in the 'Directive Principles' chapter use words such as "in particular strive"; "shall, in particular, direct its policy"; "shall be the obligation of the state" etc.
Indian laws do follow a uniform code in most civil matters — Indian Contract Act, Civil Procedure Code, Sale of Goods Act, Transfer of Property Act, Partnership Act, Evidence Act, etc.
States, however, have made hundreds of amendments and, therefore, in certain matters, there is diversity even under these secular civil laws. Recently, several states refused to be governed by the uniform Motor Vehicles Act, 2019