Inauguration of Sagarika: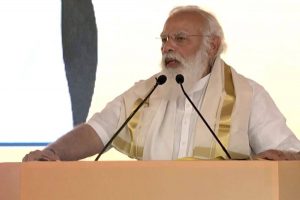 Prime Minister Narendra Modi inaugurated and laid the foundation stone of various projects in Kochi, Kerala.
The inauguration of Sagarika, the International Cruise Terminal in Kochi will cater to over lakh cruise guests.
It is the country's first full-fledged international cruise terminal.
He also inaugurated the Marine Engineering Training Institute of Cochin Shipyard Ltd. Vigyan Sagar, the new knowledge campus of Cochin Shipyard would particularly help those wanting to study marine engineering.
South Coal Berth would bring down logistics costs and improve cargo capacities.
Propylene Derivative Petrochemical Project (PDPP) will help strengthen India's journey towards being Aatmanirbhar as it will save foreign exchange.
With Ro-Ro Vessels, a distance of almost thirty kilometers on road will become 3.5 kilometers through waterways leading to less congestion and more convenience, commerce, and capacity-building.