Bhuvan: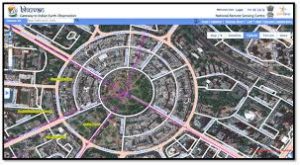 The Department of Space (DoS), under which ISRO comes, has signed an MoU with geospatial technology company CE Info Systems Pvt Ltd.
The collaboration will enable them to jointly identify and build a holistic geospatial portal utilizing earth observation datasets, 'NavIC', Web Services, and APIs (application programming interface) available in MapmyIndia.
The geospatial portals will be called 'Bhuvan', 'VEDAS' and 'MOSDAC'.
Bhuvan is the national geo-portal developed and hosted by ISRO comprising geospatial data, services, and tools for analysis.
VEDAS (Visualisation of Earth observation Data and Archival System) is an online geoprocessing platform that uses optical, microwave, thermal, and hyperspectral EO data covering applications particularly meant for academia, research and problem solving.
MOSDAC (Meteorological and Oceanographic Satellite Data Archival Centre) is a data repository for all the meteorological missions of ISRO and deals with weather-related information, oceanography, and tropical water cycles.