Inauguration Of 'Sky Bridge 721' Suspension Bridge: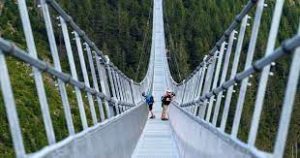 After two years of construction, 'Sky Bridge 721' Suspension Bridge was inaugurated recently.
It is the world's longest suspension bridge. It broke the record of the currently longest bridge, the Arouca Bridge (516 meters long) located in Portugal.
It is located between the crests of the Kralicky Snezník mountain in Dolní Morava village, Czech Republic.
It spans the Mlýnský Stream valley from the ridge of Slamník Mountain to the ridge of Chlum Mountain.
The length of the bridge is 721 meters.
The width is 1.2 meters.
Visitors will enter the bridge at an elevation of 1,125 meters and reach its highest point at 95 meters above ground level (1,116 above sea level).
On the other side the bridge is 1,135 meters above sea level.
Visitors can learn about the local history through an educational trail called The Bridge of Time, which contains elements of augmented reality (AR).
It was prepared in cooperation with LESY ČR (Forests of the Czech Republic) and the Museum of Czechoslovak Fortifications of 1935–1938.