The 'World Air Quality Report 2020':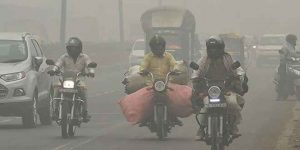 It is a report on air quality released by Swiss organization, IQAir.
The global cities ranking report is based on PM2.5 data from 106 countries, which is measured by ground-based monitoring stations, most of which are operated by government agencies.
Air Pollution in Indian cities:
Delhi is the world's most polluted capital: Although Delhi's air quality improved by nearly 15 percent from 2019 to 2020, the city still ranked as the 10th most polluted city in the world and the most polluted capital.
22 of the world's 30 most polluted cities including Delhi are in India.
Ghaziabad is the second most polluted city in the world after Xinjiang in China.
The eight Indian cities in the top 10 list are — Bulandshahar, Bisrakh Jalalpur, Noida, Greater Noida, Kanpur, Lucknow (all in UP), Bhiwari in Rajasthan, and Delhi.
Major sources of India's air pollution include transportation, biomass burning for cooking, electricity generation, industry, construction, waste burning, and episodic agricultural burning.
Global Scenario:
India is the third most polluted country in 2020, unlike in 2019, when its air was the fifth most noxious.
Bangladesh and Pakistan were the countries in 2020 with worse average PM2.5 levels than India, said the report.
China ranked 11th in the latest report.
of the 106 monitored countries, only 24 met the World Health Organization annual guidelines for PM 2.5.