MiG-21 Bison Aircraft Of The Indian Air Force (IAF) Crashed In Barmer, Rajasthan: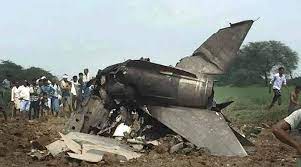 A MiG-21 Bison aircraft of the Indian Air Force (IAF) crashed in Barmer, Rajasthan, on July 28, killing the two pilots aboard the trainer version of the fighter aircraft.
There have been six MiG-21 Bison crashes in the last two 20 months, with five crashes in 2021 and one in 2022.
Five pilots have lost their lives in these crashes. However, this is the first fatal trainer aircraft crash of the MiG-21 Bison in a long time.
There are four squadrons of MiG-21 Bison aircraft currently in service in the IAF with each squadron comprising 16-18 aircraft, including two trainer versions.
Out of these one squadron, Srinagar-based No 51 Squadron, is going to be retired from service or 'number plated' in IAF jargon on September 30 this year, leaving three squadrons in service.
Out of these three squadrons, one will be number plated each year and, thus, MiG-21 Bison will be phased out of IAF by 2025.
The IAF is looking towards reviving these squadrons back into service with the indigenous Light Combat Aircraft (LCA) Tejas.